Red Wine Hiking Trail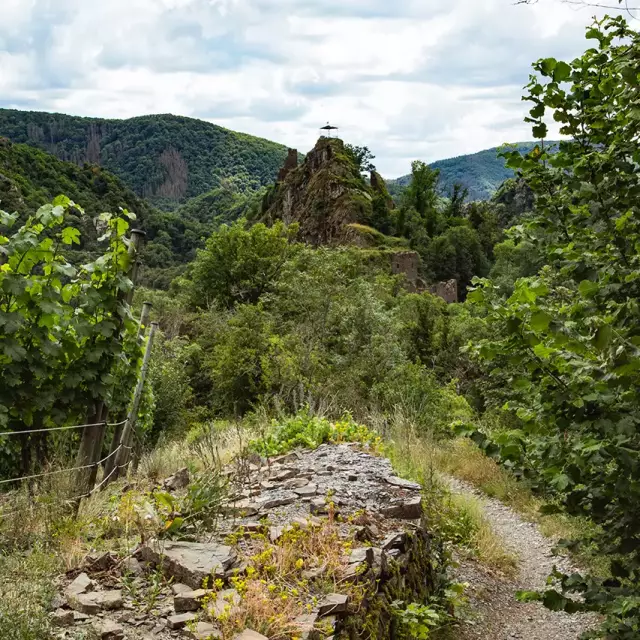 One of the smallest but finest winegrowing regions in Germany is the Ahr. Wine has been grown in the Ahr valley since Roman times. Today, red wine varieties in particular, such as Spätburgunder (Pinot Noir) and Frühburgunder thrive on the steep, often terraced and perfectly exposed sites, and produce high-quality wines.
The 35-kilometre-long Red Wine Hiking Trail, one of the best-known wine hiking trails in Germany, winds through the middle of the vineyards. The views along the serpentine route between Altenahr and Bad Bodendorf are often spectacular. There are rugged slate cliffs, steep wine terraces with dry stone walls, homely wine taverns and much more. Ten years ago, the "Altenahrer Eck" was even named the most beautiful "Vineyard View" in the Ahr region. But there are many other places that also make fans of wine and dramatic landscapes go repeatedly into raptures whatever the season. In spring, the fresh green of the budding vines and the first warm rays of sunshine awaken the spirits. In summer, you can watch the winegrowers hard at work in the vineyard. The clusters of grapes, still green, are already visible. In autumn, the colourful foliage of the vines is a delight, while the ripe grapes are harvested in the terraces with the promise of a good vintage. The atmosphere during the harvest is exhilarating also for hikers. In winter, with frost or snow, the vines stand bare and gnarled in rows. The hoarfrost glistens in the sun. This is also a beautiful wine experience. The Red Wine Trail can be easily explored in individual stages of varying difficulty, each a few kilometres long. Detours are also worthwhile, such as to the Are castle ruins near Altenahr, from where you have a spectacular view of the rocky landscape of the middle Ahr valley. Between Mayschoß and Rech, the landscape is truly wild and romantic. Occasionally, there are steep ascents with stairs which have to be mastered. The section between Rech and Dernau is easier, leading through shady mixed forest and past a spring. Benches along the way invite you to rest and relax. On the section between Dernau and Ahrweiler, the trail passes the oldest monastery in the Ahr valley and a bunker complex that once served as a "government bunker". A contemporary museum provides more information for those interested. Numerous good restaurants, wine taverns, vinotheks and wineries are within easy reach or even directly on the Red Wine Trail. A stop for refreshments is highly recommended, and not just for weary hikers. After all, the Ahr valley is also an enticing culinary landscape.