Winzerhof Gierer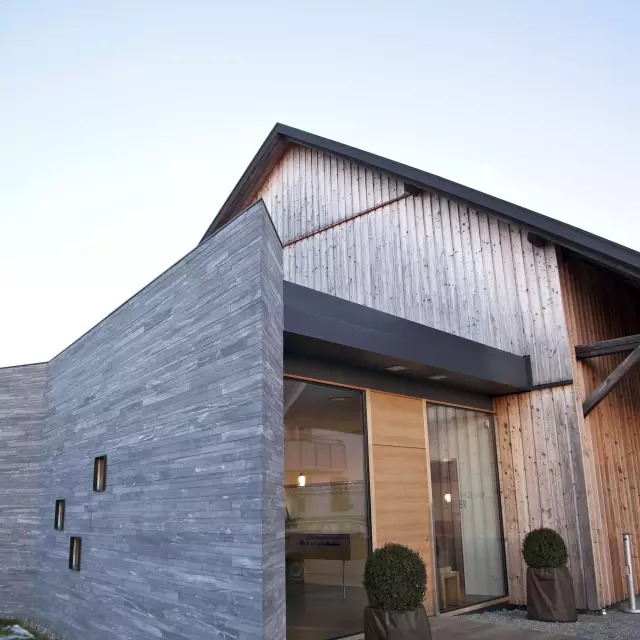 The Gierer winery is located in the Bavarian Nonnenhorn on the sun-drenched north shore of Lake Constance, surrounded by vines. The family has been dedicated to viticulture for over 300 years and have now given their old premises a contemporary face.
To keep up with the times, changes are always necessary. That is why winemaker Josef Gierer decided to expand his traditional winery; on the one hand to optimize the production processes, on the other hand to create appealing spaces for the presentation of his wines as well as their tasting and sale.
He commissioned Mattes Sekiguchi, an architecture firm based in Heilbronn, to design a vinotheque that incorporated the existing wooden barrel cellar. The result was an expansion of the existing barn, moving all sorts of retired tools, from horse collars to a wine press, aside to make room for the new entry area. To the south, towards the street, it received a fully glazed annex that is completed by a strikingly angled natural stone wall made of Vals quartzite. This unconventionally designed entrance is the business card of the winery. To the north, the glass front directs your gaze directly into the surrounding vineyards. The barrique cellar underneath is integrated into the tasting area through a glass panel sunk into the floor, so you can see the estate's wines maturing as you walk across. To the south, the view extends through the glass wall over Lake Constance to Sankt Gallen and the Säntis.
For Josef Gierer and his wife Renate, the new vinotheque combines unusual shapes, regional materials and stunning views - not only of the nearby and distant surroundings, but also in the cellar where the estate's wines are stored. You can hardly imagine a more suitable tasting room. The visitors obviously agree and the Gierers get positive feedback not only from regular customers, but also from people attracted by the architecture. "The average age of customers is now significantly younger, and there was an increase in sales of around a fifth per year," confirms Josef Gierer. His innovative vinotheque was awarded the Bavarian Artouro Architecture Prize in 2011 and had previously received the "Wine Architecture Award 2010".