Red-wine estate Jean Stodden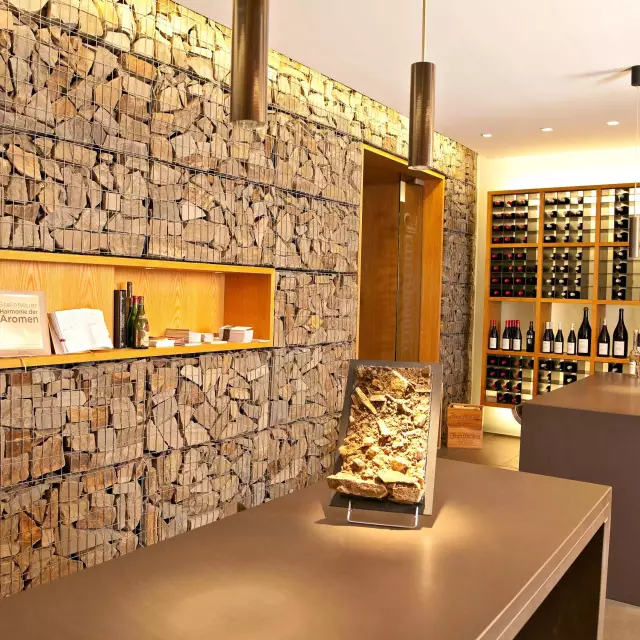 "If you think wine in a new way, you also think architecture in a new way." Architect Hans-Jürgen Mertens from Bad Neuenahr-Ahrweiler followed this principle with the new vinotheque of the Jean Stodden winery.
Landmarks of German Wine Culture, Ahr
Tradition is very important in the winemaking family from Rech an der Ahr - Gerhard Stodden's ancestors have been cultivating vines in the Ahr Valley since 1578. Maintaining this awareness of tradition and at the same time being open to new ideas is a balancing act that is evident in the architecture of the winery. This is particularly highlighted in the old storage space which has been converted into a sales and tasting room. Slender vertical windows structure the rather austere facade and line the entrance to the sales room.
The interior of the vinotheque is modern, but by no means cool. The natural elements of stone and wood create a warm ambience and exude an earth-bound atmosphere that focuses on the essential: the rock on which the vines grow and the wood of the oak barrels in which the wines mature. These two materials represent the essential elements of the architectural design. For example, the walls are mostly covered with wire baskets filled with quarry stones from the vineyards. The wooden cladding is no less unusual: oak slats have been prepared using parquetry techniques and now serve as an ultra-modern wall panel adorned with the traditional script of Weingut Jean Stodden.
The gray-brown stone floor that connects the two rooms is deliberately subdued, therefore allowing the walls to display their full effect. The heavy and massive-looking quarry stone walls form an exciting contrast to the lightness of the furniture and the partly glazed facade. The transparency and lightness continue towards the back of the room, where a view through the glass wall onto the stainless-steel tanks and barrique barrels in which the wines are stored, can be appreciated whilst tasting.
"Small wines are eaten up by the wood, but large wines get bigger in barrels," says Gerhard Stodden. His award-winning Pinot Noirs attest to this, as their aromas unfold in the impressive atmosphere of the vinotheque. Even better, if the fire is crackling in the fireplace during the tasting.
The tasting room of Weingut Jean Stodden in the Ahr valley, completed in 2007, received an award as part of the " Wine Architecture Award 2010" for its successful combination of traditional and modern design elements.
Contact : Jean Stodden - Das Rotweingut
Rotweinstraße 7-9
53506 Rech
Phone : +49 2643 / 3001

www.stodden.de
Opening Time
Monday - Friday: 09:00 - 12:00; 13:30 - 17:30
Saturday: 10:00 - 13:00