Cradle of the wine cooperative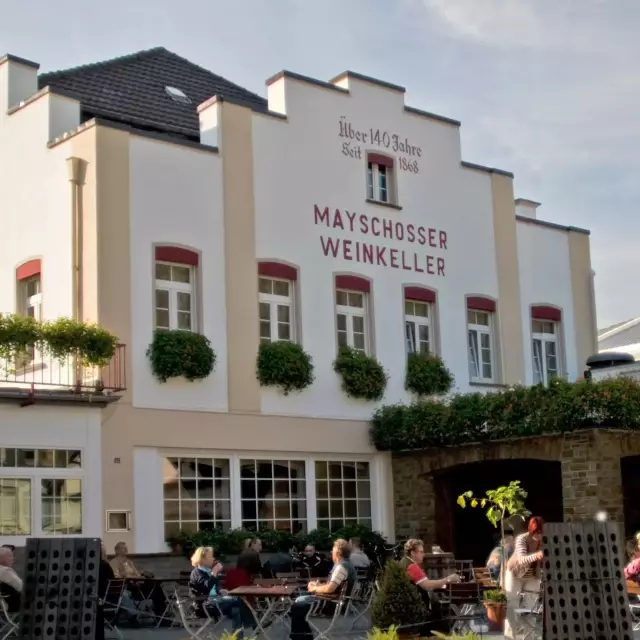 It was a birth out of necessity: since about 1860, viticulture in the Ahr region had been in deep crisis, caused by crop failures, phylloxera and the collapse of the wine trade between the Prussian territories and their European neighbors.
Mayschoss-Altenahr: Cradle of Wine-growers' Cooperatives
Landmarks of Wine Culture: Ahr
The cradle of wine-growers' cooperatives lies in Mayschoss in the Ahr River Valley. It was here that 18 vintners made wine history when they founded the world's first wine-growers' cooperative on 20 December 1868.
One year later, the association was entered into the Commercial Register of Corporations and Cooperatives in Koblenz as the "Wine-growers' Association of Mayschoss." Its first president was Nikolaus Näkel.
It was born out of necessity. Viticulture in the Ahr Valley had been in a deep crisis for nearly a decade due to poor harvests, the vine louse phylloxera, and the collapse of the wine trade between Prussian territories and their European neighbors. By joining forces, growers hoped to find a way out of this plight. By the end of the 19th century, nearly 20 cooperatives had been founded in the Ahr Valley. To this day, some 90% of all Ahr vintners are members of one of 12 regional wine-growers' cooperatives.
The cooperative in Mayschoss grew quickly, and by 1881, it already had 141 members. They began digging the first parts of a huge vaulted cellar in 1873. In 1888 and 1889, the second and largest corridor was built to house wine barrels, and the first floor of today's office building was added. In 1968, 240 members celebrated the cooperative's centennial. Fourteen years later, the cooperatives in Mayschoss and Altenahr merged. The enlarged cooperative has been known as the Winzergenossenschaft Mayschoss-Altenahr ever since.
The region's viticultural history is depicted in a small museum in the cooperative's cellars. All kinds of grape-growing and winemaking implements are on display, from old panniers and handcarts to transport the crop, to pruning and picking shears, and historical equipment, such as an old grape mill from 1900, a machine to cork wine bottles by hand, and even a semiautomatic bottle washer.
Today, the cooperative has 320 members who collectively cultivate 121 hectares of vines, 60% of which are Spätburgunder – not surprising in a region known primarily for red wine – and 20%, Riesling. With an average annual production of one million liters, the cooperative numbers among Germany's medium-sized operations, and among its finest: in 2000, it was named "discovery of the year" and the only cooperative winery to earn three grape clusters in the Gault Millau wine guide. A special wine from the fantastic 2007 vintage was produced in 2008 to celebrate the cooperative's 140th anniversary – needless to say, a Spätburgunder.
Opening Time
Vinothek Altenahr:
Monday - Friday: 8:00 am - 6:00 pm
Saturday, Sunday & holiday: 10:00 am - 6:00 pm

Vinothek Mayschoss:
May - October:
Monday - Sunday: 9:00 am - 6:30 pm
November - April:
Monday - Friday: 8:00 am - 6:00 pm
Saturday, Sunday & holiday: 10:00 am - 6:00 pm