Winemaker's mulled wines increasingly popular
20.11.23
For some years now, more and more German wine producers have been offering mulled wines from their own production. These mulled wines from winegrowers are now increasingly available at Christmas markets and in food and wine shops throughout Germany, some of which are organic, vegan or made according to old recipes.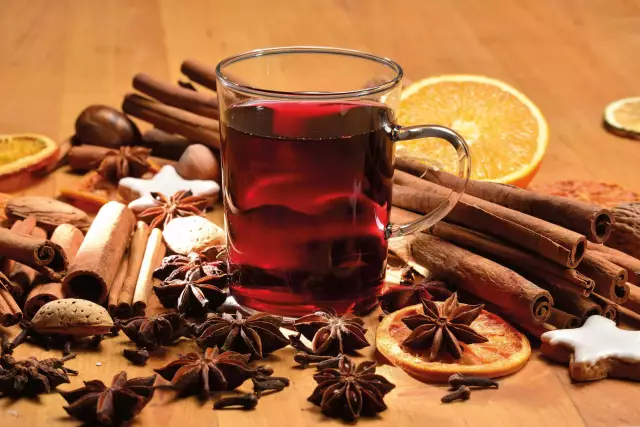 These mulled wines from winegrowers are now increasingly available at Christmas markets and in food and wine shops throughout Germany, some of which are organic, vegan or made according to old recipes. White and, since last year, rosé mulled wines in particular are becoming increasingly popular.
The DWI database "Wine Producer Search" currently lists 219 wine producers who offer mulled wine.
Homemade mulled wine
"If you prefer to make your own mulled wine, you should make sure the base wine is of good quality," explains Ernst Büscher from the German Wine Institute (DWI). The fruit-orientated German wines are particularly recommended for a tasty mulled wine. When heated, their intense flavours harmonise beautifully with the spicy additions.
However, according to expert Büscher, a delicate touch is required when adding the mulled wine spices. He advises "to season the mulled wine only subtly so that the fruity wine flavours can still be tasted and are not drowned out by the spices."
In addition, the mulled wine should only be heated over a medium heat without boiling. Otherwise the delicate fruit flavours will be lost and the taste will become bitter. To preserve the wine flavours, the finished mulled wine should not be heated above 70 °C either.
Red, white or rosé
The grape varieties Pinot Noir, Dornfelder or Regent are well suited for classic red mulled wine. For white mulled wine, mildly acidic varieties such as Müller-Thurgau or Silvaner are recommended. If you like it particularly aromatic, you can also opt for bouquet varieties such as Scheurebe or Gewürztraminer.
"Rosé mulled wines combine the fruity wine flavour, which is often reminiscent of raspberries or strawberries, with the typical mulled wine spices," explains Büscher. For the do-it-yourself version, for example, he recommends flavouring a Pinot Noir rosé with apple, vanilla, star anise and cinnamon.
When preparing a mulled wine, it is generally a good idea to use sweet or semi-dry wines, as they require less sweetening.
Wine law regulations
Incidentally, the term "Winzerglühwein" may only be used if the mulled wine has been prepared from our own wines. If it is labelled "German mulled wine", the basic products come from your own country.
According to the wine law, mulled wine is a "flavoured wine-based drink" that is made exclusively from red, white or rosé wine and has been sweetened and spiced. The addition of alcohol is prohibited, as is the addition of water or colourings. The alcohol content must be at least 7% by volume and less than 14.5% by volume.
The corresponding EU regulation for the production of rosé-coloured mulled wines was amended in 2022 due to increased demand. They may be produced from both rosé wine and a cuvée of red and white wine. The latter is not permitted for rosé wine production.
If mulled wine spices are added to non-alcoholic wine, it may not be described as "non-alcoholic mulled wine", but as a "flavoured drink made from non-alcoholic red wine", for example.
Mulled wine has a long tradition
Flavouring wine has a very long tradition in the wine world. "Even the ancient Romans flavoured some of their wine with honey and spices," explains Büscher. Apicius (25 BC - 43 AD) mentions a recipe for flavoured wine that is very similar to today's recommendations for mulled wine: Cinnamon, bay leaf, star anise, coriander and thyme as well as a large portion of honey should be added to the wine to make it more enjoyable and longer lasting.
How to make classic mulled wine a delight
Take a bottle of local red wine, sweeten it to taste with rock candy or honey and then add a sliced, untreated orange or lemon, three cloves and a stick of cinnamon. Apple pieces refine the flavour. For white mulled wine, replace the cloves with star anise.
Leave the mixture to infuse at a low temperature for a few hours and remove the spices from the wine using a sieve. Before serving, reheat the mulled wine to a maximum temperature of 70 °C and enjoy.
Contact persons
Ernst Büscher

Pressesprecher / Press officer