Wines of Germany's new internet presence
31.10.23
The German Wine Institute (DWI) has technically renewed winesofgermany.com as well as the database and restructured the respective contents. The english version germanwines.de was replaced by the more international domain name winesofgermany.com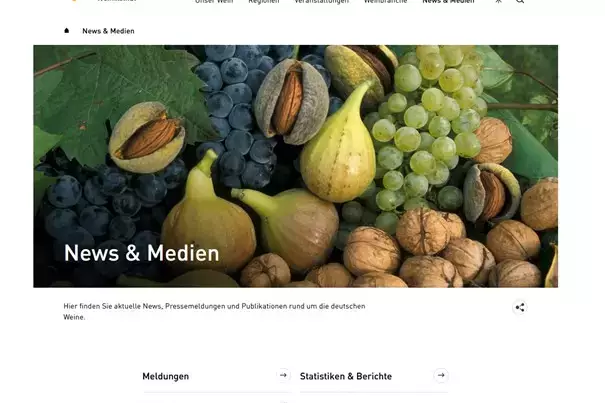 The institute's new sites appear significantly fresher and tidier. They offer a clearer menu navigation in which static elements are linked to dynamic content elements.
Re-registration for the image archive required
Another new feature is the renaming of the image archive to "media portal", which is now integrated into the DWI expanding database. The press can of course still use the hundreds of photos from the German wine world free of charge. In order to gain access to the new media portal, database registration: The existing log-in data for the image archive is no longer valid.
Improved usability, search function, loading time
Other technical innovations include a significantly improved search function and shortened loading times. In addition, changing the language to English is now possible at the touch of a button on any page. Both the websites and the database also work on mobiel devices. Database-contents als also being published via the App "Deutsche Weine" (German wines).
A special highlight is the regional map (scroll): You can search for wine-growing businesses, events, highlights of wine culture, the most beautiful wine views and vineyard trails/hikes in all 13 growing regions. It is still partially under construction and will be gradually expanded.
Have fun exploring our new pages!
DWI

Ein besonderes Highlight ist die Regionenkarte: Hier kann nach Weinerzeuger/innen, Veranstaltungen, Höhepunkten der Weinkultur, Schönsten Weinsichten und Weinwanderungen in den Regionen gesucht werden.
Contact persons
Ernst Büscher

Pressesprecher / Press officer

Frank Schulz

Abteilungsleitung Kommunikation / Head of communication department