Best wine merchants 2023 awarded
15.10.23
The Edelfrei GenussVinothek in Bamberg is the winner of this year's competition for the specialist trade prize, which is awarded annually by the German Wine Institute (DWI) in cooperation with the trade magazine WEIN+MARKT.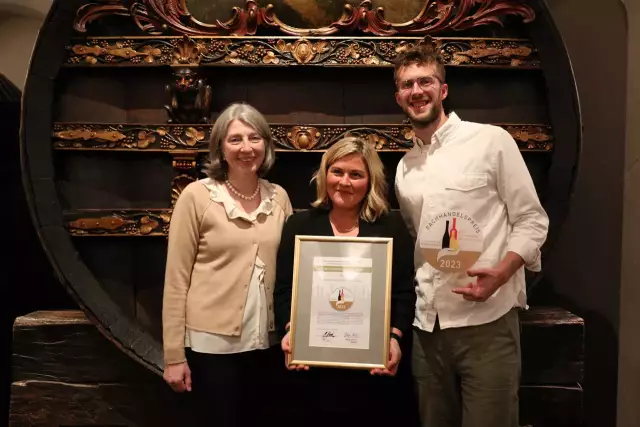 Second place went to the Ludwigsburg branch of WEIN-MOMENT, followed by the Willenbrock wine shop in Rheine.

Honored in the Bremen Ratskeller

The award winners were honored on 15 October 2023 in Bremen's Ratskeller. "An award such as the Specialist Retail Award is very helpful, especially in difficult times, to further strengthen customer loyalty and provide new impetus for turnover and sales," emphasizes Andreas Kaul, Head of the Specialist Retail Department at the DWI. When assessing the participating specialist retailers, the jury paid particular attention to a clear presentation of wines from as many German wine-growing regions as possible as well as an appropriate depth and breadth of the product range. The competition participants can also score points with an inviting store ambience, competent advice, tasting opportunities, customer-oriented services as well as events and promotions that focus on wines from Germany.
Building bridges with exceptional offers
"We had a number of strong entries. Many specialist wine retailers are approaching their customers with modern and innovative concepts and ideas," says the head of WEIN+MARKT magazine, Klaus Herrmann. "The Edelfrei GenussVinothek won us over with its almost sophisticated interior, charming and competent service and a very wide range of wines from Germany." The proportion of German wines in the Vinothek is almost 100 percent. The winemakers include young newcomers as well as established winemakers from ten German wine-growing regions. "Edelfrei also offers a well-assorted range of upmarket delicacies and stylish accessories. In this way, we appeal to a culinary-minded audience of all age groups and build a bridge to the wines of German origin," says Herrmann.
Commitment to customer loyalty
The second prize winner - the Ludwigsburg branch of WEIN-MOMENT - impressed the jury with its relaxed atmosphere and bright, modern store design. "Numerous events, such as open wine tastings with titles like Brutal Regional, after-work parties, wine & speed dating or yoga & wine open up access to predominantly German wines in a playful way, especially for young people," was the jury's verdict.
"Much of what can be done right in the future-oriented wine trade is implemented here," said the jury, which awarded third place to the Willenbrock wine shop in Rheine. "In addition to a clear guidance system and the opportunity to taste all current wines with excellent advice, this also includes offering German wines at winegrower prices or self-designed and sustainable wine presentation packaging". The organization of wine fairs and regular wine events together with German winegrowers also received an award.

Attractive and promotionally effective award

In addition to trophies, certificates and plaques, the three winners of the specialist trade award will receive valuable vouchers from competition sponsors "Zwiesel Kristallglas" and "Howasped" as well as vouchers for DWI staff training courses worth a total of 6,000 euros. They will also be appointed to the jury for the election of the German Wine Queen 2024 in Neustadt an der Weinstraße.

The 2023 award winners:

PLACE 1 Genussvinothek Edelfrei, Karlinenstr. 16, 96049 Bamberg
PLACE 2 WEIN-MOMENT GmbH, Kaffeeberg 15, 71634 Ludwigsburg
PLACE 3 Willenbrock GmbH & Co. KG, Salzbergener Str. 89 48431 Rheine
FRANK GAYDE

Die Gewinner des Fachhandelspreises 2023: Marlies Bohnengel, Sonja und Johannes Weigand, Genussvinothek Edelfrei. Foto li.: Jörg Winkler, Klaus Herrmann - Wein+Markt; Foto re.: Andreas Kaul, DWI. Copyright: Frank Gayde

FRANK GAYDE

Den 2. Platz des Fachhandelspreises 2023 belegten Mona Maisack und Anna-Lisa Wenzler von der Vinothek Wein-Moment in Ludwigsburg. Copyright: Frank Gayde

FRANK GAYDE

Gewinner des Fachhandelspreises Platz 2: Mona Maisack und Anna-Lisa Wenzler, Wein-Moment Ludwigsburg. Foto li.: Jörg Winkler, Klaus Herrmann - Wein+Markt; Foto re.: Andreas Kaul, DWI. Copyright: Frank Gayde

FRANK GAYDE

Über den 3. Platz des Fachhandelspreises freuten sich Isa und Hendrick Willenbrock vom Weinhandel Willenbrock, Rheine. Foto li.: Jörg Winkler, Klaus Herrmann - Wein+Markt; Foto re.: Andreas Kaul, DWI. Copyright: Frank Gayde

FRANK GAYDE

Gewinner des Fachhandelspreises Platz 3: Isa und Hendrick Willenbrock, Weinhandel Willenbrock, Rheine. Foto li.: Klaus Herrmann - Wein+Markt; Foto re.: Andreas Kaul, DWI. Copyright: Frank Gayde
Contact persons
Ernst Büscher

Pressesprecher / Press officer