First grapes harvested for Federweißen
15.08.23
In the Palatinate (Pfalz), the first grapes of the year for the preparation of Federweißen were harvested on August 14 at 74 degrees Öchsle. According to the German Wine Institute (DWI), the start of this year's harvest and the general state of development of the vines are in line with the average of recent years.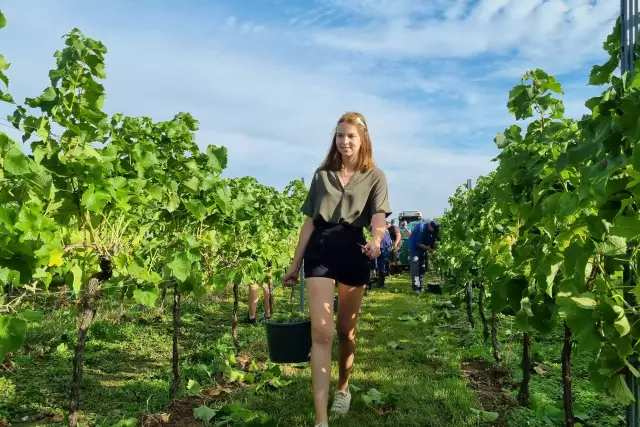 As a rule, grapes from early-ripening grape varieties such as Solaris or Ortega are used for Federweiss.

Main grape harvest begins in early to mid-September

The main grape harvest of varieties such as Müller-Thurgau is expected to begin in early to mid-September. For sparkling wine production, the first Burgundy grapes could possibly be brought in as early as the end of August. Riesling, which ripens later, should be ready for harvest in mid to late September this year, depending on the growing region.

Good starting position in the vineyards

Overall, the situation in the vineyards is quite good. The winegrowers have so far been spared any major weather-related damage. After a good flowering period, the fruit set of the vines is satisfactory and the grapes are well developed.

Challenges mastered
There was a lot of work in the vineyards this year due to an exceptionally high infestation pressure from powdery mildew, known as Oidium in technical jargon, which the winegrowers finally got under control.

The severe drought in early summer was also a challenge, especially for the younger vines, whose root system is not yet so well developed. Some of them showed symptoms of drought stress such as wilting, while older vines with their long roots reached even deeper water reserves. The abundant rainfall of recent weeks came just in time and in sufficient quantities for the vines.

Good conditions for good quality

The good water supply at the present time is also ideal for further ripening development, especially in conjunction with the warmer temperatures forecast. If it remains sunny in the coming weeks and largely dry, especially during the main harvest period, nothing stands in the way of a good quality 2023 vintage.
Onion tart recipe tips (brochure)
Viticulture and winemaking topic page
More press releases
Die Pfälzische Weinkönigin Lea Baßler bei der Lese der ersten Trauben des Jahres in der Nähe von Neustadt an der Weinstraße.

Der Geschäftsführer der Weinbiet Manufaktur, Bastian Klohr, misst den Zuckergehalt seiner Trauben mit dem Refraktometer.
Contact persons
Ernst Büscher

Pressesprecher / Press officer