Record attendance at this year's Export Forum
14.06.23
The interest of Germany's wine industry in export is growing. This is also shown by the record participation in this year's 'Forum Export' organized by the German Wine Institute (DWI) in the largest growing region of Rheinhessen.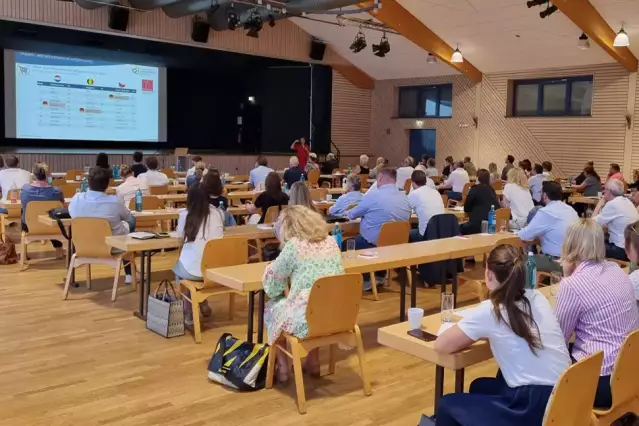 Around 100 of the 135 participating estate owners took the opportunity to find out about individual export opportunities.
The DWI offerend 12 touchpoints for individual conversations with representatives of foreign markets. "Opportunities and challenges in wine export" - that was the title of the event held on July 14th in Nackenheim. The DWI provided valuable information on global export topics, trends and perspectives. Wine producers with and without export experience showed great interest alike.
Renowned experts present topics relevant to exports
Ignacio Sanchez Recarte from the European Association of Wine Producers spoke (remotely) about the challenges facing the wine trade in the EU. Prof. Dr. Simone Loose from Hochschule Geisenheim University presented the results of global surveys of wine experts on various export-related topics.
Bernhard Jung from the oldest producer of non-alcoholic wines (Carl Jung, Rüdesheim) spoke about his experiences with the demand for and the export of non-alcoholic wines. Other speakers included the managers of the Wines of Germany agencies from Great Britain, the USA and the Netherlands, who gave valuable insights into the developments in their wine markets.
Video: Explore Wines of Germany - The Film
More News
Parallel zur Vortragsveranstaltung des Forums bot das DWI den Weinerzeugern die Möglichkeit, sich über die Exportpotenziale in verschiedenen Ländern zu informieren.
Contact persons
Ernst Büscher

Pressesprecher / Press officer