Deutsche Bahn serving modern German wines
22.05.23
From September 1st, travellers on long-distance Deutsche Bahn trains can look forward to a very modern selection of wines from the local winegrowing regions.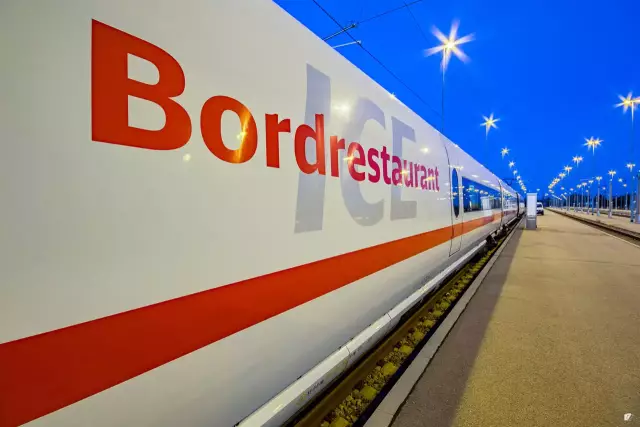 Deutsche Bahn has selected well-known winemakers, such as the renowned Rheingau Riesling specialist Johannes Leitz with his dry "Eins-Zwei-Dry" Riesling, as well as young upcoming talent. For example, the young winemaker Juliane Eller from Rheinhessen, whose dry Pinot Gris from her Juwel wine portfolio now enriches the new DB wine list, and David Spies, a former winner in the European Winemaking Competition, with his slightly fruity, semi-dry rosé made from Merlot grapes. As an internationally experienced young winemaker, Christian Hirsch contributes a powerful red wine cuvée from Württemberg, appropriately named "Rot und Wild" from the sunny 2018 vintage, to the DB wine selection.
Enticing range of wines for Deutsche Bahn guests
This year, the German Wine Institute (DWI) provided logistical support to Deutsche Bahn, in terms of the tender and blind tasting, for the creation of a new wine menu. DWI managing director Monika Reule is very satisfied with the result: "The new wine collection from Deutsche Bahn represents the modern side of Germany as a wine country in an excellent way and also gives newcomers from the German wine scene the chance to show their skills."
Philip Schaaf, Head of Goods Group Management at DB Fernverkehr AG, emphasized the good cooperation with the DWI as well as the very good result of the tender: "We are pleased to be able to offer guests on our long-distance trains an attractive range of wines that focus clearly on the local winegrowing regions, which are currently so much in demand. After all, wine has been very popular with our guests for years." Last year, red and white wine sales on Deutsche Bahn ICE and IC trains totalled around 660,000 bottles.
The new DB wine selection at a glance

Juwel wines
2019 Pinot Gris dry
Rheinhessen

Weingut Leitz
2019 Eins-Zwei-Dry - Riesling dry
Rheingau

Weingut Spies
2019 Rosé Spies semi-dry
Rheinhessen

Weingut Hirsch
2018 ROT UND WILD red wine cuvée dry
Württemberg
Die neue Weinauswahl in den Fernverkehrszügen der Deutschen Bahn. ©DB Fernverkehr AG

Die DB-Weinkarte wird im Sommer um einen fruchtig-aromatischen Rosé erweitert. © DB Fernverkehr AG