UK: Best wine merchants awarded
31.08.23
With the trade campaign "31 Days of German Riesling", the summer was all about German Riesling. In Great Britain, 125 retailers, wine bars and restaurants took part in the worldwide campaign weeks, an initiative of the German Wine Institute (DWI).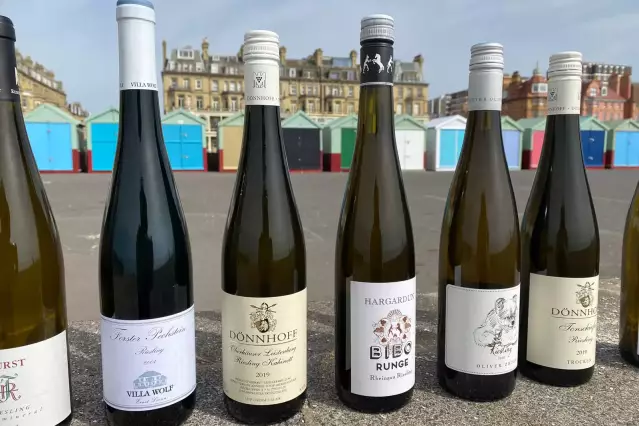 Nicky Forrest from Wines of Germany UK draws a positive conclusion: Thanks to "31 Days of German Riesling" and the high level of commitment of specialist retailers and restaurateurs around London, Germany's most famous grape variety is celebrating a renaissance in the UK.
Many creative campaigns
In addition to free tastings under the motto #freetastefridays and German wine producers presenting their wines live on site, social media campaigns were also effective. "The level of participating businesses was very high," says Forrest. After evaluating all the campaigns, Wines of Germany UK announced the winner: Fourth and Church in Hove.
1st place: Fourth and Church
Fourth and Church impressed with its vast range of German Rieslings, including 38 German Rieslings in its promotion, 20 of which were new listings. A second-time winner, it also had daily specials to recommend to its customers and hosted two events for wine and food pairings. This helped increase German Riesling sales by almost 400% in July compared to June.
The diversity of German Rieslings
Fourth and Church director Paul Morgan said:""31 Days of German Riesling" means we really get to focus on the exciting German Rieslings available to us. It's a real opportunity to list a diverse range of styles of Riesling and to draw attention of our customers to the diversity of German wines and its growing regions. To win once again, is testament to our dedicated team's enthusiasm, hard work and a loyal customer base who are always up for trying something of quality."
2nd place: Reserve Wines
This year's runner up is Reserve Wines. The company increased its sales by letting customers taste the wines in advance. It also had a great online presence with a 31 Days homepage banner, two blog posts, emails and social stories with 31 facts about Riesling. Nicolas Rezzouk said the promotion not only educated Reserve Wines' customers but also allowed staff to try all of its Rieslings in order to sell more to the customers.
Riesling Renaissance in the UK
Nicky Forrest, MD of Wines of Germany UK commented: ""31 Days of German Riesling" has built such a great reputation over the years that operators now look forward to its return every July. We're definitely seeing a Riesling Renaissance in the UK at the moment, and this is in no small part thanks to the support of the independent merchants, wine bars and restaurants who get stuck into "31 Days of German Riesling" and how it increases Riesling sales year on year."
Worldwide DWI Promotion Weeks around Riesling & Co.
Contact persons
Ernst Büscher

Pressesprecher / Press officer