"Riesling is one of the best wines in Hong Kong!"
28.07.23
During the Riesling Weeks in Hong Kong, the German Wine Queen Katrin Lang imparted valuable knowledge about German wines and travel destinations in the wine-growing regions.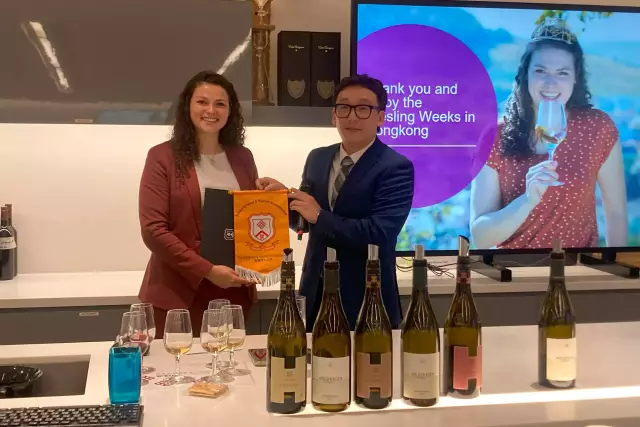 She has organized numerous wine tastings and seminars for interested students at the Polytechnic University and the Vocational Training Council in Hong Kong.
Enthusiasm for Riesling
"You'll see, Hong Kong is like a small village, even though 7.4 million people live here, I was told as soon as I arrived," said German Wine Queen Katrin Lang about her visit to the Riesling Weeks in Hong Kong.
"I didn't know how much prior knowledge I could assume, but to my surprise, the Hong Kongers already count German Riesling among the top wines. Of course, I was very pleased about that. I was able to build the seminars on this and focus on the diversity of Riesling," explains Katrin Lang.
Riesling Weeks Hong Kong: Asian cuisine and German Rieslings
Rieslings from Germany are highly valued in this country for their fruity aromas and mineral acidity, as they go perfectly with slightly spicy Asian cuisine.
The German Wine Queen was able to see this for herself at her first dinner: fresh regional fish, a spicy sauce and a crisp, fruity Riesling harmonized perfectly with each other.
To mark the global Riesling Weeks, numerous restaurants in Hong Kong took part in the campaign and created special menus tailored to German wines and German Rieslings in particular.
The diversity of Riesling
During her stay in Hong Kong, Katrin visited a pop-up store in the city center with a particularly large selection of German wines. "It was very exciting for everyone involved not only to talk about the differences between the wines, but also to taste them," reports the German Wine Queen.
Cool climate: what makes German wines so special
Thanks to its "cool climate", Germany has a unique selling point that makes its wines something very special. There was great interest in white wines, but even greater interest in German red wines, which are still little known in Hong Kong: Pinot Noir, the most important German red wine, is still considered an insider tip here.
"I was totally thrilled by Hong Kong!"
"The days in Hong Kong were tightly planned, but I still used my free time to see the city. I didn't miss out on a ferry ride through Victoria Harbor and a short hike up Victoria Peak. Hong Kong and its love of German Rieslings totally inspired me," says Katrin Lang at the end of her trip.
GermanWineAmbassadors - Instagram
Deutsche Weinmajestäten - Facebook
Katrin Lang zeigt sich begeistert über des herzliche Willkommen in Honkong.

Katrin Lang besucht die Riesling Weeks in Hongkong.

Die Deutsche Weinbotschafterin hielt zahlreiche Weinproben und Seminare interessierte Studierende an der Polytechnic University und dem Vocational Training Council in Hongkong.

Katrin Lang besucht die Riesling Weeks in Hongkong.