Indian travel portal recommends Germany's wine regions
19.07.23
India's business portal for the travel industry, BOTTINDIA.com, recommends a visit to Germany's wine regions. "Wonderful landscapes everywhere," the authors indicate in their list of "Unmissable Travel Experiences".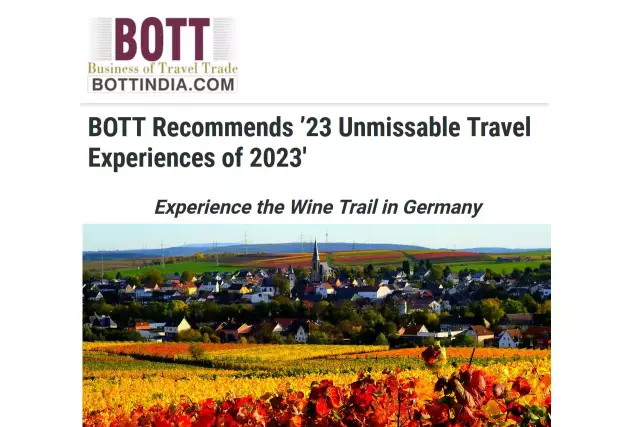 "You simply must experience it," so the highly frequented portal : "steep vineyards, wide rivers, trulli, ruins, castles and lots of good wine!"
"Where wine grows, it's always beautiful"
Motto according to BOTT: "Where wine grows, it's always beautiful - because that's what the wines demand from their surroundings. Vines love to grow in the sun and at night draw moisture from the cool morning mist of a river. Many wine grapes then dry thanks to that gentle breeze on steep slope."
Our domestic wines grow in 13 wine-growing regions alongside the Rhine, Main, Mosel, Neckar, Ahr, Nahe, Saale and Unstrut, their tributaries and around Lake Constance, BOTT_INDIA describes aptly.
Wine regions are travel destiantions
And then a BOTT recommendation follows: "An initiative of the German Wine Institute has awarded the "Best Vineyard Views" of these regions. "Be inspired and find your very personal favorite place, your favorite view and definitely your favorite wine on your travels through the German wine landscapes ."
Editor in Chief of BOTT — Business of Travel Trade - is Mrs. Priyanka Saxena Ray.
Archive: New York Times editor raves about German wines
More News
Contact persons
Frank Schulz

Abteilungsleitung Kommunikation / Head of communication department