Sommeliers from all over the world visit German wine-growing regions
17.05.23
Germany's Sommelier Spring Class 2023 led the participants to four of 13 wine growing regions. The international group - seen as the extended arm of the gastronomy - was guided by German Wine Ambassadors as well as staff from The German Wine Institute (DWI).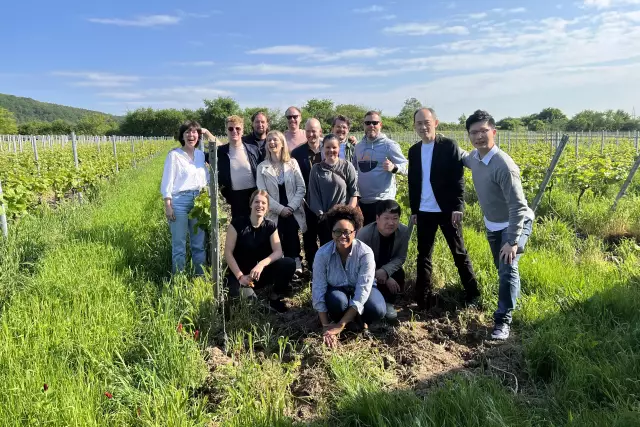 The format is aimed at sommeliers from all over the world who want to get to know the German wine-growing regions, vintners and their wines - and deepen their knowledge.
On this year's journey lasting several days, the participants could choose between the main topics "Riesling" and "Organic Wines". They were accompanied by the Ambassadors Luise Böhme and Juliane Schäfer.
Important multipliers for German wines abroad
"The group of sommeliers are important multipliers for German wines abroad. Wine producers like to see them as an extended arm of gastronomy. It is therefore important to promote interest in German wines and to support the sommeliers in expanding their skills," explains the international training manager of the DWI, Moritz Volke.
Numbers, dates, facts about the wine country Germany
At the start of the Sommelier Class' journey, Head of Marketing Steffen Schindler (DWI) provided the sommeliers with important figures, data and facts about the 13 German wine regions and informed them about the strongest international export markets for German wines.
Lecture on climate change in viticulture and sparkling wine session
Well prepared, the participants traveled the next day to the Hessian state wineries Kloster Eberbach and the Leitz winery and Privy Councilor J. Wegeler in the Rheingau. During their visit to the Geisenheim University, they listened with interest to the lecture by Prof. Dr. Schultz on the effects of climate change on viticulture. Afterwards, the award-winning Sommelière 2021 Nancy Großmann gave a lecture on the special features of German sparkling wine, which were tasted at the same time.
Visiting Rheinhessen, Pfalz, Nahe and Mosel Region
Thereafter, the group, who was keen to learn more about organic wines, traveled to the wine regions of Rheinhessen and Pfalz. The Riesling fans went to the Nahe, Mosel and Rheinhessen growing areas. At the end of the sommelier class, all participants met at the Thörle winery in Saulheim in Rheinhessen.
All 13 Wine Regions
Versatile German grape varieties
Sustainability in German Viticulture
Sensoriktraining: Die Sommeliers verkosteten zahlreiche Weine aus den deutschen Weinregionen, um ihre Kenntnisse zu vertiefen.

Auf dem Programm der Sommelier Class 2023 standen die Weinregionen Rheinhessen, Pfalz, Nahe und Mosel.

Der Steillagenweinbau an der Mosel beeindruckte die Teilnehmenden.

Die Teilnehmer/innen der Sommelier Class 2023 kamen aus Hong Kong, Japan, den USA, Großbritannien, Niederlande, Tschechien, Polen Deutschland und den skandinavischen Ländern.

Die Sommelier Class 2023 fand ihren Abschluss im Weingut Thörle.