Amsterdam: Generation Riesling enthuses at King's Day
28.04.23
Young, innovative and cosmopolitan, this is how three of the 550 Generation Riesling members presented themselves to Dutch sommeliers and wine merchants at this year's "Königsdag". The Dutch people toast to King Willem-Alexander's birthday that day.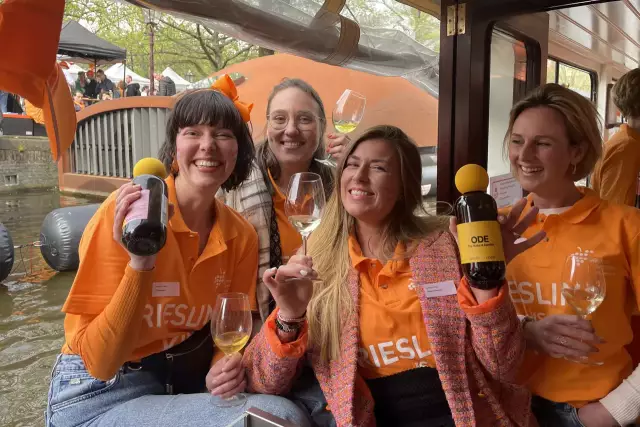 Tastings were held in a relaxed atmosphere during a boat trip through the canals of Amsterdam. Some 63 participating importers, specialist dealers, journalists, influencers, restaurateurs and sommeliers were enthusiastic about the preseted wines and cool atmosphere on board (Video).
Powerful annual event in the channels of Amsterdam
The celebrating group along the canals caught the eye with light orange polo shirts and a crown with the imprint "Riesling is King" - as did the boat with the inscription "Riesling is King" and the logo "Wines of Germany duitsewijn.nl".
The boat trip took place for the sixth time this year and was once again a visually stunning event. The event also attracted a great deal of attention and media coverage on the Instagram and Facebook channels of the Dutch 'Wines of Germany' representative office.
In 2023 nahmen folgende Generation Riesling Mitglieder an der Ausfahrt teil:
Katrin KINNE Weingut Bernhard (Rheinhessen region)
Nico ESPENSCHIED Weingut Espenschied (Rheinhessen region)
Henning MATHERN Weingut Mathern (Nahe region)
Background: "Königsdag" (King's Day) is a national holiday in the Netherlands. On this day, the Dutch celebrate the king's birthday. Since 2014, it has been celebrated annually on April 27 in honor of King Willem-Alexander. For this occasion, many Dutch people dress in orange (the color of the Royal House of Orange) and celebrate nationwide with parades, folk festivals and concerts.
More information: Wines of Germany - The Netherlands
More News