The Guardian: Germany is the most exciting wine nation
27.04.23
In its issue of April 18th 2023, the internationally renowned British daily newspaper 'The Guardian' highlights Germany as the most exciting wine nation of our times. Editor David Williams describes how the international winelover community has increasingly acquired the unique taste of wines produced from berries of the Riesling vine.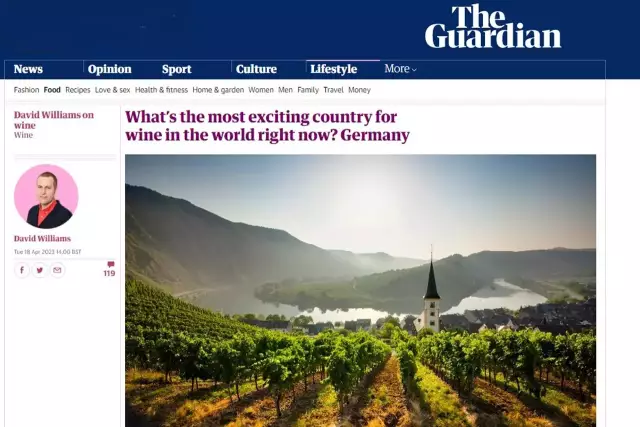 An increasing number of people acquire that taste, Williams states: "There has been a decisive swing towards the kind of high-acidity, cool-climate qualities that riesling embodies. At the same time, German producers have met the world halfway, producing significantly more wines in a properly dry style."
Wonders of the wine world
Riesling, in all its forms accounts for many of David Williams' favourite German bottles. The Guardian's specialist explaines that - for one thing - the best classic off-dry, medium- and fully sweet styles from Germany's Mosel region remain among the wonders of the wine world. Additionally, Williams continues, "there has been a remarkable improvement in Germany's other styles. Most impressive is the Pinot Noir (or Spätburgunder), which has emerged in the 21st century as a genuine challenger to burgundy. The country's best sekt sparkling wines are likewise a much more serious proposition, offering a steely alternative to champagne."
Shift in public's perception
Google Trends back up David Williams findings: The leading white and red grape variety of Germany's vintners, Riesling and Spätburgunder (Pinot Noir) have seen a considerable increase in public awareness over the past decade. Remarkable, seeing the tough competition in today's global cut-throat market.
source: The Guardian - read the full article
More News
British 'Wines of Germany' Team
Archive: media reach exceeds one billion people